Fire Prevention Week Reminders
For Safety Tips use our 'Fire Safety Tips' link
| | | |
| --- | --- | --- |
| | | |
| | | |
| | | |
Sisters and Brothers,
We wanted make you aware of the upcoming date for our fall Quarterly Meeting, to be held on Thursday, October 29, 2015, 10am, at the union hall in Augusta. Per the PFFM Constitution nominations for the office of President, 1st DVP, 3rd DVP and the 1st and 3rd District Trustee will be entertained. Also we will have an update on a Task Force for the retirement system that is looking at how Disability Pensions are being handled and we are trying to put together a presentation on how to navigate a Workers compensation claim.
We will have more details to follow on this important meeting but please mark it down on your calendars and plan to have you Local in attendance. Thanks and any questions please let me know.
John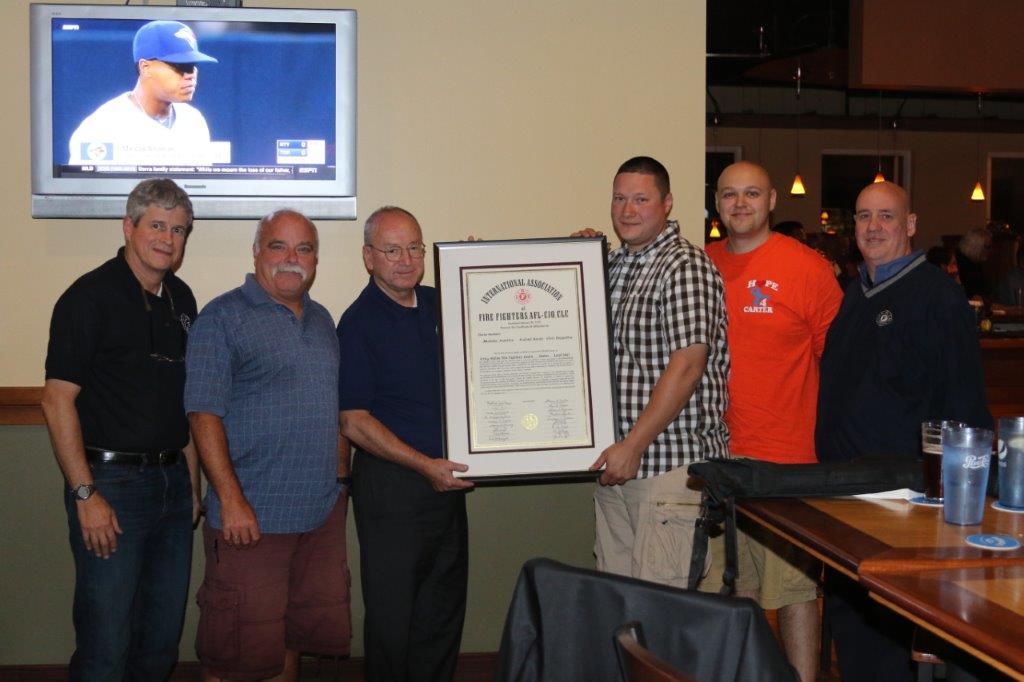 On Wednesday night, President Martell along with 2nd District Vice President Mike Williams and Director of Organizing & Field Services Division Michael Crouse presented the International Association of Fire Fighters Certificate of Association to our newest IAFF Local 5007, Gray Maine Fire Fighters Union. Accepting the Charter are Nicholas Hutchins, Michael Barter and Chris Desjardins, all charter members. Also attending was President Josh Pobrislo, South Portland Fire Fighters. Once again, congratulations and welcome to the organization!

Two years ago, 43-year-old Maine firefighter Mike Nixon was diagnosed with malignant melanoma — the most dangerous form of skin cancer. "I had a spot develop in a weird place on my ear," he says. "It wasn't on top where you'd think people would get skin cancer, where there is sun exposure. Read More...
PORTLAND, Maine (NEWS CENTER) -- It's called the silent killer. You can't see it, smell it, or taste it. Carbon monoxide kills an average of 160 people a year in this country. Under Maine law apartment buildings now must have carbon monoxide detectors. So do long term rentals but older hotels, inns, and bed and breakfasts, those built before 2009, do not. Read More...
Firefighters risk their lives daily for those in the community. A scientist says there are many health risks involved and what protects them is part of the problem. Caitlin Burchill explains. ==== The Orrington Fire Chief wants to protect his crew at all costs. Read More...
 When I began a career in the fire service, it was a common practice in many fire departments to be issued hand me down bunker gear.  I remember once where I had to repair my helmet to make it somewhat useful.  Most firefighters entering the fire service over 20-30 years ago had to earn the right to wear new or slightly used bunker gear due, in part, to economics. Read More...
The IAFF has released a new online resource on How to Become a Professional Fire Fighter for affiliates to use in recuitment campaigns or for individuals and organizations interested in learning more about how to pursue a career as a professional fire fighter/paramedic. Read More...
Study: Exposure to flame retardant chemicals means firefighters face higher cancer risk than previously thought ELLSWORTH, Maine — New research by a Blue Hill scientist shows that during a fire, firefighters are exposed to dangerous levels of toxic, cancer-causing chemicals created when commercial flame retardants burn. Read More...