Peter L. Rines Memorial Scholarship Fund
The Professional Fire Fighters of Maine
Supports the Peter L. Rines Memorial Schorarship Fund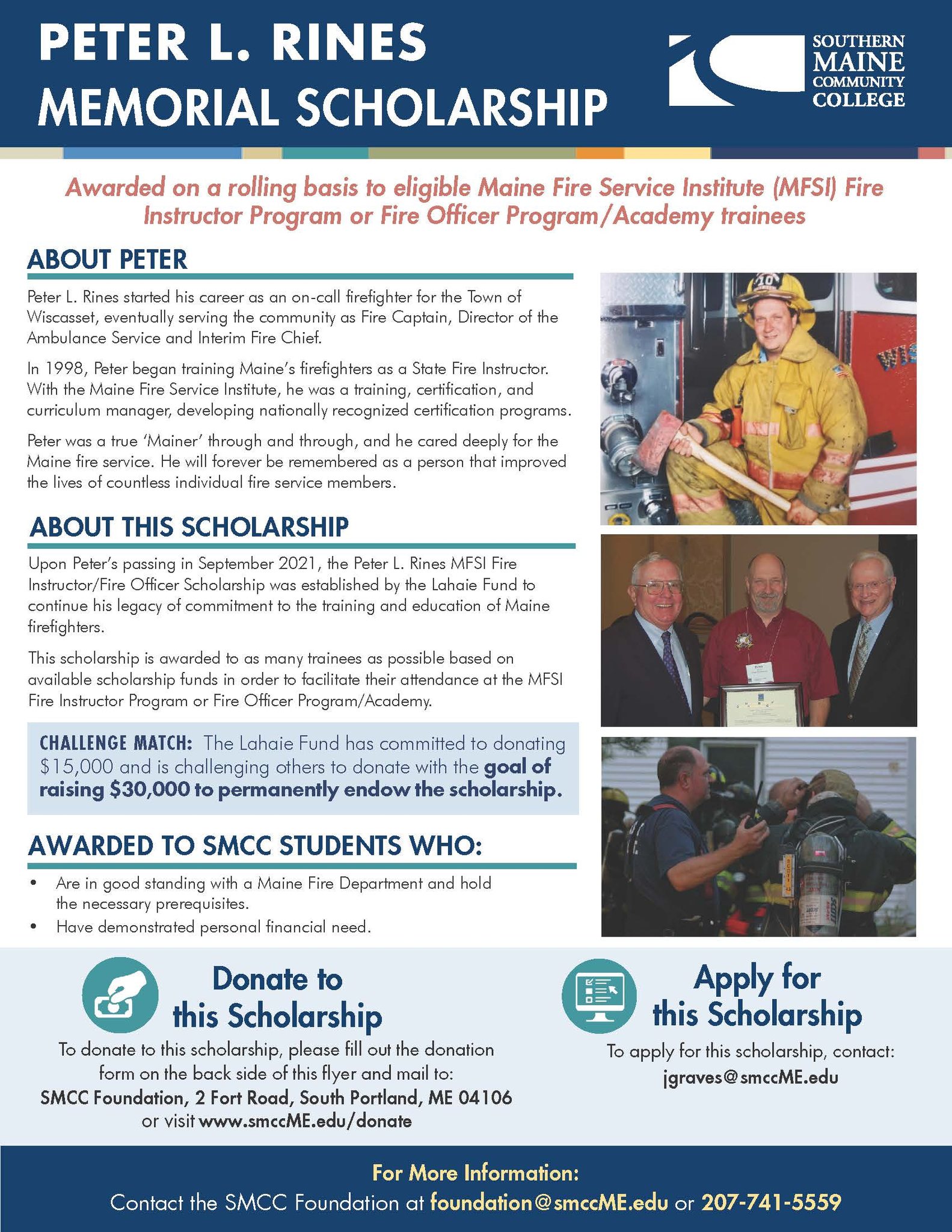 Professional Fire Fighters of Maine
Peter L. Rines started his career as an on-call firefighter for the Town of Wiscasset, eventually serving the community as Fire Captain, Director of the Ambulance Service, and Interim Fire Chief.
In 1998, Peter began training Maine's firefighters as a State Fire Instructor. With the Maine Fire Service Institute, he was a training, certification, and curriculum manager, developing nationally recognized certification programs.
Peter was a true 'Mainer' through and through, and he cared deeply for the Maine fire service. He will be forever remembered as a person who improved the lives of countless individual fire service members.
Peter took certification from the NFPA levels to the National Pro Board. Over the years, many hundreds of Maine Firefighters have been trained to and have met national qualifications and recognition. Many of the participants, both career and call participants, have paid out of their own pockets for the certification costs.
Before Peter's passing, he found ways to help these candidates defer this expense. The Lahaie Fund has provided funds for the Certifications of Fire Officers I, II, and Ill, Fire Instructor, and Fire Inspector. Peter and Sherman had discussions on how a scholarship could be set up to create an endowment to guarantee that future certifications would be available to all aspiring Maine Fire Officers and Fire Instructors.
The Lahaie Fund challenged the Maine Fire Service to a 50/50 match over three years to raise a minimum of $30,000 to build a sustainable endowed scholarship with Southern Maine Community College's Foundation, in Peter's name.
As of September 1, 2023, there have been $24,700 in contributions and matches from the Maine Fire Service, the Chiefs Association, the Maine State Federation, PFFM locals, individual firefighters, and citizens as well as the Lahaie Fund.
As you can see, the SMCC Foundation is very close to realizing the goal to fully endow this scholarship. We would ask that your locals consider making a contribution where their members have benefited from certification in preparation for promotions and career advancement.
In addition, the SMCC Foundation is available to have a discussion in regard to a continuing relationship to donate to the Peter L. Rines Memorial Scholarship in support of continuing Maine Firefighter Certification.